Telepresence 透過 sshuttle 使用 SSH connection 產生 VPN-like tunnel,建立一個雙向的 network proxy。(more details),甚至可以在 service 前面加一層 ingress, cert-manager 進而產生一個 Local HTTPS 的開發環境。
此外,CNCF 基金會 目前已經將 Telepresence 加入計畫,可以對這個工具多一點的信心。
解決問題
如果 cluster 的 micro service 很多,不可能在本地端用 minikube 測試。
不需要等待 CI/CD 將程式碼推到 Cluster 才能看到結果
不需要額外設定 VPN(OpenVPN, Wireguard),存取 Cluster 其他 Service
可以在程式內直接使用 Kubernetes Cluster 的 Service

ex. requests.get('client.elasticsearch:9200')
先看結果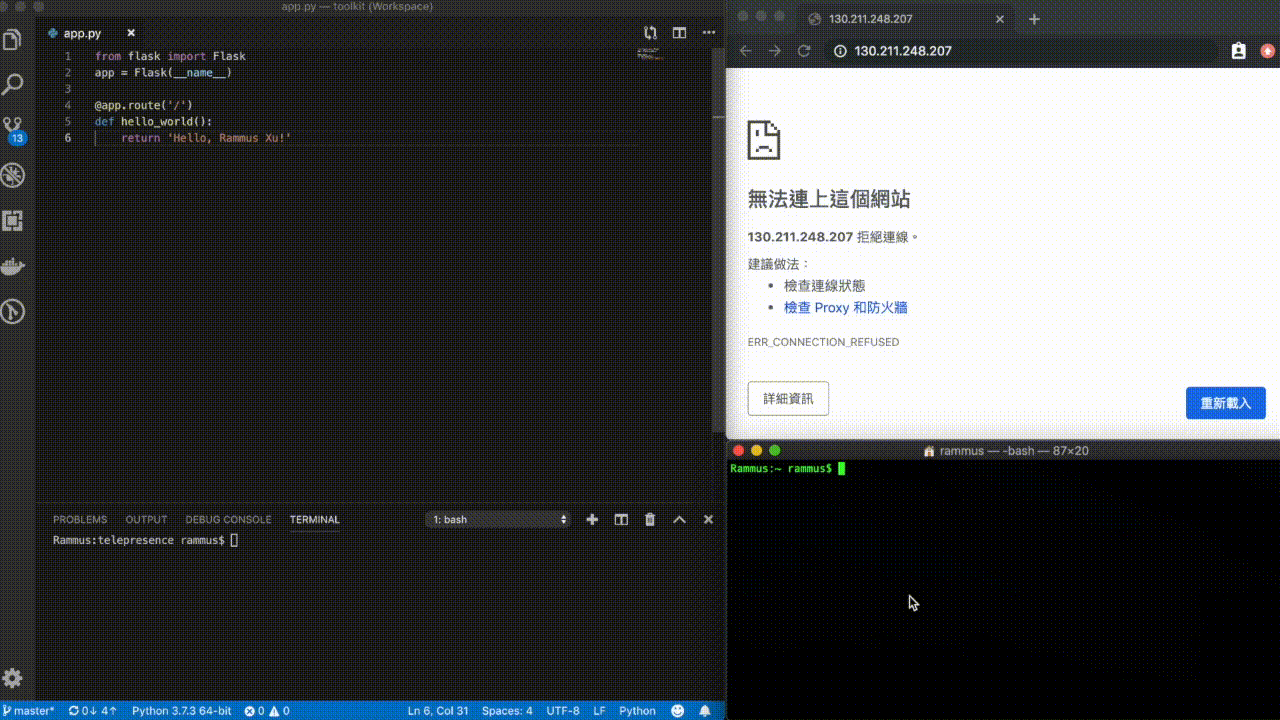 Step by Step
Code: https://github.com/RammusXu/toolkit/tree/master/k8s/telepresence
Install
brew cask install osxfuse




brew install datawire/blackbird/telepresence



先準備一個 telepresence 的 proxy pod(deployment+service)
kind: Service




apiVersion: v1




metadata:




  name: telepresence-rammus




spec:




  selector:




    owner: rammus




  type:  LoadBalancer




  ports:




  - name:  http




    port:  80




---




apiVersion: apps/v1




kind: Deployment




metadata:




  name: telepresence-rammus




spec:




  replicas: 1




  selector:




    matchLabels:




      owner: rammus




  template:




    metadata:




      labels:




        owner: rammus




    spec:




      containers:




      - name: telepresence




        image: datawire/telepresence-k8s-priv:0.99




        ports:




        - name: http




          containerPort: 80



以及一個簡單的 Flask
from flask import Flask




app = Flask(__name__)





@app.route('/')




def hello_world():




    return 'Hello, Rammus Xu!'



Run
kubectl apply -f telepresence.yaml




sudo telepresence --deployment telepresence-rammus --expose 5000:80 --namespace dev --run sh -c "FLASK_DEBUG=1 flask run"



--deployment [deployment-name] 將會置換掉 deployment
--expose 5000:80 將 localhost:5000 expose 到 kubernetes-pod:80
--namespace [your-namespace] 可以選擇要替換哪個 namespace 的 deployment。預設是 default
--run 啟用 server 的方式。ex. npm start, flask run, rails server。這邊帶入 FLASK_DEBUG=1 自動監控 app.py 程式碼變更時重啟 server,如果是別的語言,請自行替換,或是加入環境變數。
Advanced
其他選擇
Reference
Troubleshooting
sshd: no hostkeys available – exiting.
https://github.com/telepresenceio/telepresence/issues/1013#issuecomment-495949902
However, running telepresence –expose 80 fixes things for me by forcing usage of the datawire/telepresence-k8s-priv image as opposed to the datawire/telepresence-k8s image as mentioned above.